If making a hearty breakfast doesn't suit your morning routine, then these simple smoothie recipes are for you. With fresh ingredients and a few easy steps, you're going to get them whipped up before your coffee is brewed.
If you want to taste something different-but equally healthy-than salads, then smoothies are just what you've been looking for! Smoothies are sure to provide a general boost to our energy, and we like to combine them in order to benefit from all their safe ingredients.
Making the best smoothie and juice that makes you feel alive can be as creative as we want it to be by using all of our favorite fruits, vegetables, and add-ins; but, we can also review and follow some tested and thought-provoking smoothie and green juice recipes to taste. Really, our drink can be mixed just the way we like it.
Here are some wonderful recipes that we're going to look for the best smoothie and green juices that make you feel alive, that can be made easily at home and will definitely boost your energy:
Minted Fruit-Cocktail Juice
Ingredients:
1 apple, peeled, sliced, and diced.
1 peeled and divided orange.
1 cup Pineapple
2 cups of cubed and seeded watermelon
1 teaspoon of lemon juice
A little sprig of new mint
First juice the orange and the apple and then blend with the pineapple. Then transfer the juice to a blender and add the lemon juice, the watermelon, and the mint. Blend them until it is smooth.
Matcha Pear Green Protein Smoothie
Ingredients:
2 scoops of Protein in vanilla powder
1 cup of unsweetened almond milk
A cup of spinach
1 cored pear
1 teaspoon of matcha tea powder
We'll use a blender to blend until it is smooth, after you first mix all the ingredients.
Ingredients:
1 navel orange, peeled
peeled banana
1 cup of packed organic spinach
¼ cup of coconut water (we can adjust it according to our preference)
1 tablespoon of hemp seeds (optional)
Ice
First add all the ingredients and a couple of ice cubes to the blender, then combine them and add more coconut water to ensure the desired quality of our drink.
Ingredients:
peeled and sliced cucumber
1 stalk of celery
1 handful of kale
1 peeled and sliced apple
1 peeled and sliced pear
1 teaspoon of lemon juice
Juice all the ingredients in a decent way, leaving the juice of the lemon to last. If you think your juice is too thick, add some water to the juicer to dilute the final product.
Ginger-Orange Green Smoothie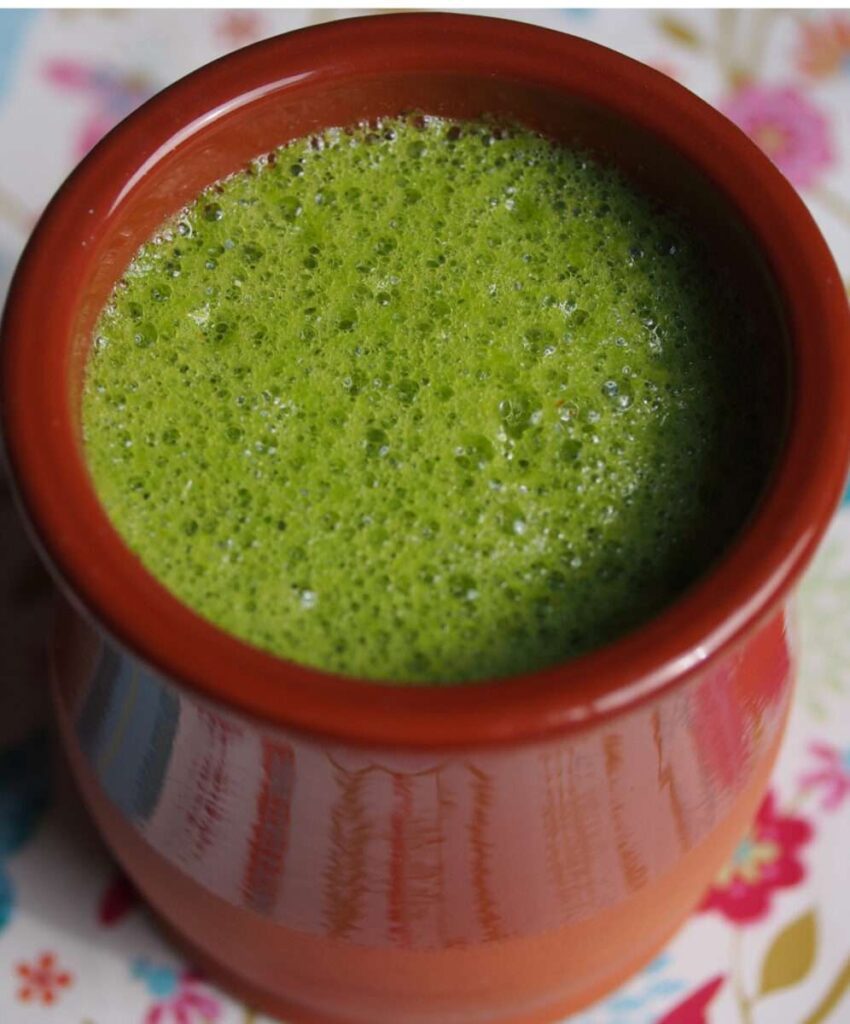 Ingredients:


1 & cups of filtered water
4 large handfuls of fresh spinach
4 romaine leaves (optional)
2 navel oranges
2 ripe bananas
1''-2'' knob of fresh ginger
1 cucumber (optional) *if not organic, then peel
Rinse and prepare the vegetables first. If you have a high-powered blender, put all the ingredients in it, and blend to make it smooth.
If you don't have a blender of this sort, mix spinach and romaine first until it's smooth. When done, add the remaining ingredients and blend.
Ingredients:
4/5 slices of pineapple
¼ cup of water
2 peeled, oranges or tangerines, and sectioned
1 generous handful of berries (our choice)
1 banana, peeled
1 handful of ice
First juice pineapple and oranges, and then add some water to get all the yummy bits out. Then pass the juice to the blender and add the remaining ingredients, beginning at low, to crack the ice first. Finally, crank up to the top, until it's smooth.
Ingredients:
2 green apples, peeled, sliced and coed
1 cup of honeydew-melon, peeled and chopped
1 cup of green grapes (seedless)
1 handful of spinach or kale
1 peeled, kiwi and sliced
peeled cucumber, peeled and sliced
Juice all of these ingredients and drink right away. It's better if you put the ingredients in the refrigerator a few minutes or hours before blending.
These are some delicious recipes for the best smoothie that make you feel alive and you can make every day of the week to improve your health and vitality! Enjoy and let us know which one of your favorites is right now!