Moonstone succulent (Pachyphytum Oviferum) is a lovely tiny to medium-sized Crassulaceae-family succulent endemic to Mexico's highlands. It has extremely fat leaves that are tightly packed and almost shaped like tiny eggs or almonds; thus, its other common name is 'Sugar Almond Plant' and round in loose rosettes up to 12 inches (30 cm) wide 4 inches (10 cm) tall.
Pachyphytum Oviferum, also known as moonstones, is a Mexican succulent that can be a visually appealing addition to your plant collection. This plant has distinct and appealing aesthetics, with silvery, plump leaves that can look stunning in your garden or pots.
Pachyphytum Oviferum, like other succulents, can be a trouble-free plant if grown in the right conditions. So, if you're thinking about bringing these beautiful succulents into your home, make sure to give them enough hydration, light, and soil. Here's a step-by-step guide to caring for moonstones.
Moonstone Succulents need plenty of light but not direct sunlight. During dry spells, they also require a lot of water. If they get too much water, their roots will rot, potentially causing root damage. Moonstones require at least one inch of water per week. When it's time to water, you might notice some yellowing on the leaves. This indicates that there isn't enough air circulation around the plants, so keep an eye out for mold growth.
Outdoor Care For Moonstone Succulent
Plant your Moonstone Succulent in a sunny spot in your garden that receives full sun all year. However, if your area has scorching summers, choose a location that receives dappled shade in the afternoons.
Mix equal parts compost and sand or pumice in the area where you will plant Pachyphytum Oviferum to a depth of 10-12 inches. Because water will not stand in such soil, using this mix will protect the roots of your succulents.
After planting your moonstone, water your succulent when the topsoil feels dry. Keep in mind that overwatering will cause the roots of your plant to rot. Furthermore, keep your Pachyphytum Oviferum away from cold weather; these delicate succulents cannot tolerate temperatures below 20 °F.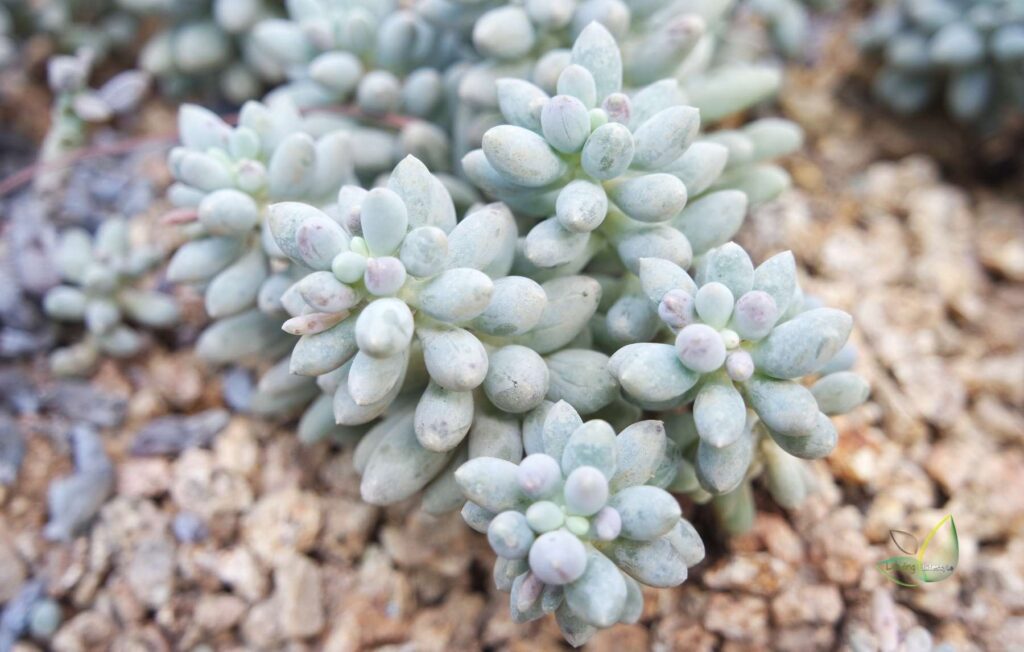 You should note that temperatures below 20 °F will destroy the plant. Pachyphytum Oviferum can withstand direct sunshine in the morning, but you must protect it from the afternoon sun. In frosty weather, cover your succulent with a sheet or a light blanket.
Water your plant so that water droplets do not splash on its leaves; they are pretty sensitive and more prone to injury, especially when overwatered. Furthermore, because succulents grow actively during the winter, they will require extra water.
Indoor Care For Moonstone Succulent
If you want to grow Pachyphytum Oviferum in a container indoors, make sure it has the proper growing conditions. But first, you must learn how to move it into a container. To begin, cover the bottom of your plant pot with gravel and then with a potting mix explicitly designed for succulents.
The container where you will plant your Pachyphytum Oviferum does not need to be very deep; if your succulent is 2 inches tall, a 2.5-inch container is a good choice. Because moonstones can spread up to 12-inches wide, your plant pot can gradually grow to 8-12 inches in diameter as your plant grows. It is the ideal size container for Pachyphytum Oviferum because it allows your eye-catching succulent to spread as it grows. After you've finished arranging the container, plant your Pachyphytum Oviferum's stem as profoundly as it was in the pot it came in.
After that, water your plant thoroughly and add a layer of black pebbles to the soil to make it look more appealing. Keep your plant in a bright, sunny location where it will receive adequate sunlight.
Water the Pachyphytum Oviferum in the container only when the soil is dry to a depth of 4 inches. If you water it while the soil is still moist, your delicate succulent will be damaged.
Suppose you're wondering how to tell if your succulent needs water; look at the leaves of your Pachyphytum Oviferum. If your succulent feels firm and plump, it doesn't need water. Unless the leaves of your plant are soft and wrinkly, water them right away.
When Is It Safe To Transfer Moonstone Succulent Indoors?
It is important to note that people living in USDA plant zones 9 and 10 can keep Pachyphytum Oviferum outside for most of the year, but they should bring moonstones indoors during the frosty season.
However, people in other US zones can leave their Pachyphytum Oviferum outside in a sunny spot during the summer. If your location is prone to intense summer heat, make sure to move your Pachyphytum Oviferum during the afternoons.
Moonstones, like other succulents, are susceptible to the mealybug. As a result, if yours has stopped growing, it has most likely become a breeding ground for pests.
Moonstone succulent comes in several lovely pastel colors, including gray, purple, blue, pink, yellow, and even orange! When you look closely, you'll discover a dense white powdery coating called 'farina' on the leaves and blooming stalk. Moonstones bloom in late winter or early spring, and you can find small bell-shaped flowers in hanging clusters on a separate stem extending from the center of the plant: the outer is greenish-white, and the petals range from beige to bright pink or orange. After flowering, the rosette will remain attractive and will not die.
It's interesting that the botanical name Pachyphytum Oviferum has both Greek and Latin origins. 'Pachys' means 'fat' in Greek, and 'phyton' means 'plant.' The second part of the name is derived from Latin: ovum, which means "egg," and fero, which means "to bring, to carry," resulting in "fat plant bearing eggs."
This eye-catching succulent is very popular and is often given as a houseplant gift, even though it is quite delicate and must be handled with care, as skin oil can damage the opacity of the leaves.
To learn more about how to care for and propagate Pachyphytum Oviferum' Moonstones,' keep reading this informative article!
How To Care For Moonstone Succulent
If you are a beginner, the Moonstone succulent is the ideal plant to grow because it does not require special care and can thrive in various environmental and growing conditions. Please remember that proper growing conditions are required for your chubby succulent to thrive in any particular instance.
Check out this short video to learn how to care for Pink Moonstones Succulents.
Light And Water Requirements
Moonstones should be planted in an area that receives 6 hours of morning sunlight if grown outdoors as part of a succulent garden. Give your Moonstones some light shade in the afternoons to keep their leaves from becoming sunburned if you live in a hot climate.
When Moonstones are subjected to a shock, such as sudden temperature changes or a lack of or excess of sunlight, they may "blush" or change color. Their leaves may also change shape as they stretch out towards the sun. It's a good idea to turn your Moonstones as they adjust to the sunlight if you want to keep their color consistent.
How Frequently Should You Water a Moonstone Succulent?
Though Moonstones have the exact water requirements as most succulents, keep in mind that, unlike many other succulents, these plants require more watering during the winter because this is their growing season. Remember that Moonstone succulents are sensitive to overwatering and must be watered with caution; otherwise, the roots will rot, and the plant will succumb to diseases and pests.
Overwatering your succulents can be highly harmful: these small plants don't need as much water as you might think, and they don't need it as frequently. This is due to their leaves and roots' ability to store water to survive in adverse weather conditions, giving them more puffy or fleshy looks than other plants, a trait known as succulence.
When succulents are overwatered, their leaves, stems, and roots swell and eventually burst, resulting in black spots.
The 'soak and dry' method is the best way to water this succulent: water the soil until it is completely soaked, then wait until it is scorched before watering again (this may depend on your location and container). To keep the beautiful coat of 'farina' intact, avoid getting water on the leaves. To prevent root rot, keep the succulents with good soil in a pot with a drainage hole.
If you intend to grow your Moonstone succulent in a pot, choose one made of terracotta or clay with drainage holes to reduce the risk of overwatering and root rot. The majority of plants thrive in terracotta or clay pots. Clay's porosity allows air and moisture to penetrate the pot's sides.
However, because terracotta pots discharge moisture more quickly when it's hot outside, you'll have to water plants quite regularly to keep the soil from drying out.
Moonstone Succulent Repotting
Moonstone Succulents are slow-growing plants that only require repotting every couple of years, preferably after flowering, to allow the roots to breathe and replenish the soil's nutrients. They remain compact despite spreading to a width of about 12 in (30 cm). When selecting a new pot, choose one that is only 1-2 inches (2.5-5 cm) larger: a large pot will hold an excessive amount of water, which can be harmful to the roots of your succulent. As a result, I always recommend using a pot with drainage holes.
When repotting, rinse the soil off the roots and inspect for pests or decay. Don't be afraid to prune the roots as well; it's beneficial and promotes new growth. Prevent overwatering: Be careful not to soak the plant in water for too long during the repotting procedure. You should also avoid watering your plant immediately after placing it in a new pot. If you expose your lovely Moonstone succulent to too much water during the repotting process, it will develop root rot.
Moonstone succulents are generally pest and disease resistant plants, but insects, particularly mealybugs, can be harmed occasionally. If you start noticing your succulent has stopped growing, it is most likely due to a pest infestation.
Mealybugs can be difficult to eradicate because they have a woolly protective cover that makes them resistant to common pesticides. Treat the infestation as soon as possible, even if only a few insects are observed, to keep the plant healthy and prevent damage to other plants. When dealing with a large infestation, it is necessary to spray the plants multiple times with a 70% rubbing alcohol or isopropyl solution. To eliminate these tiny pests, each one must be killed and washed away.
How To Propagate Moonstone Succulent
You can quickly propagate moonstone succulent leaves. To increase your chances of success:
Select healthy leaves from the mother plant.

Look for entire, plump leaves rather than dehydrated, flat leaves.

Choose leaves with uniform coloration and no discolorations, spots, or marks.
Damaged, ripped, torn, or deformed leaves should not be used. Gently remove the leaves from the stem.
With your thumb and forefinger, carefully twist off the leaves from the stem. You'll notice that some leaves are easily detached, while others are firmly attached to the stem.
Twist the leaf back and forth in a gentle motion until it comes off. If you don't remove the entire leaf, including the base that connects to the stem, your newly propagated plant will die. Allow the leaves to callous over for several days before replanting them in the new soil.
When the leaves are dehydrated, dip them in the rooting hormone (optional) before placing them cut-side down in a well-draining succulent potting mix. Keep the leaf cuttings in a shaded area, away from direct sunlight, while they root.
After about a month, you'll notice tiny pink roots starting to grow from the cut and a new rosette growing from the leaf's base. When there are enough rosettes, carefully remove the original leaf clippings from the rosettes and repot the remaining ones in a new planter with well-draining soil.
Are Moonstone Succulents Toxic to Pets?
Moonstone succulents are entirely safe for your pet, as they are listed on the ASPCA's list of non-toxic plants for dogs and cats. However, if your pet consumes a large amount of it, it may experience gastrointestinal upset and vomiting. To avoid complications, it is always a good idea to contact your veterinarian as soon as possible.
When growing Pachyphytum Oviferum, you need to provide your lovely succulent proper growing conditions to make it thrive well. However, keeping the tips mentioned earlier in mind will help you take good care of your Moonstone Succulent.
We hope you find this article about Moonstone succulent (Pachyphytum oviferum) to be informative and enlightening! Please leave a remark or share your knowledge about this topic in the space below if you choose.
So, if you're thinking about bringing these beautiful succulents into your home, make sure to give them enough hydration, light, and soil.